One of the biggest things that differentiates Keller Williams from other brokerages is the Profit Share program. Just like you, each Keller Williams office wants to make a profit, but unlike other brokerages or businesses you have worked for in the past, each KW office that is profitable splits that profit with agents. Let's talk about how this is done, who can participate and how profit share is calculated.
Who is Eligible to Participate?
Any agent can participate in profit share! Once you have been an agent for 3 years and 1 day, your profit share is also yours even if you leave Keller Williams or retire. Think of it as a lifelong income stream. You are also asked to choose a beneficiary to inherit your profit share.
Sponsoring Agents
When you join Keller Williams you elect a sponsor which is the person that did the most to make you want to join KW. Once you are an agent you can of course discuss KW with other agents or people that want to become an agent and they can elect you as their sponsor. As a sponsor of an agent, you are eligible for the profit share program based on that agents results. This means your sponsor is invested in your career and helping you succeed.
Where Does Profit Share Come From?
Each KW office that is profitable splits that profit. About 52% goes to the owners of that branch, while about 48% goes into the profit share pool each month. All of this money comes from the 30% agents pay from each of their commissions until they cap. (After you have reached your cap each year you get 100% of your commission, read more on how agents earn and split commissions here.)
How is Profit Share Distributed?
Once the profit share pool is determined each month, the office determines how much each agent contributed to the overall office profit and that percentage of the profit share pool is then distributed to the agents sponsors in a set percentage tree that you can see below. So if the office had $5000 in the profit share pool that month and the agent was responsible for 10% of the office sales that month, $500 would be split between their sponsors as indicated in the tree below: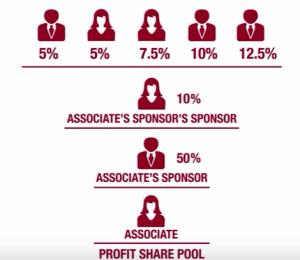 How Much Does it Really Add Up To?
Not every KW agent participates in profit sharing, in fact 65% of Keller Williams agents don't participate! And yet, here are the numbers that agents have taken home since the system was created:
1997 – $1,056,373
1998 – $1,884,433
1999 – $2,719,495
2000 – $3,420,659
2001 – $4,280,142
2002 – $6,312,491
2003 – $13,329,222
2004 – $28,412,112
2005 – $48,473,720
2006 – $52,297,696
2007 – $44,010,358
2008 – $30,505,288
2009 – $32,257,465
2010 – $34,571,728
2011 – $38,329,319
2012 – $55,331,906
2013 – $78,188,257
2014 – $98,084,800
2015 – $129,814,588
2016 – $154,444,665
2017 (through April) – $66,449,227
TOTAL: $924,173,945!!!!
Remember that is in addition to what they earned selling homes, and many now earn more in profit share than they do acting as an agent! By helping Keller Williams grow, you are also helping your own income, and that of the agent you sponsor. Without all of us being successful, none of us would be, and that is part of the great culture of being a KW agent. Every agent also has access to their market centers books so you can see how the market center is doing at any point in time. This transparency really sets Keller Williams apart from other brokerages. You can read the white paper on the profit share system here and watch the video below.